Preschool
                                               
Please click on the link to view our ABC Preschool Tour.  Parent visits are suspended until after the second lockdown.
The preschool provides care and education to children aged 2 to 5 years.
All funded 3 and 4 year olds can attend ABC from 8am until 6pm Monday to Friday for 51 weeks of the year.  Government funding can be used from 8am until 3.15pm Monday to Friday term time only.  Any additional hours would be invoiced separately.
The preschool offers both the universal 15 hours free early years funding and the extended 30 hours funding to all eligible 3 and 4 year olds. For more information, please visit:  www.childcarechoices.gov.uk  or contact us on 01473 718296 (option 1)
We also offer 15 hours funded sessions for 2 year olds from 8.45am until 3.15pm.  To check if your child is eligible for this visit:  www.suffolk.gov.uk/two
Early Years Pupil Premium (EYPP):  In past years, ABC has used the additional funding provided by the EYPP to provide in-setting training to our staff, purchased resource for parents, such as the  'What to expect and when?' booklet and support eligible parent with the cost of trips and outings.  The additional funding received also enables us to provide an additional member of staff to working with the children in small groups.
Please click here for a copy of: ABC Preschool Prospectus 2019 / 2020 There is a registration form attached.
You can follow us on Facebook (Abc Preschool – Ipswich Ltd) or on Instagram (Instagram.com/abcfreetime)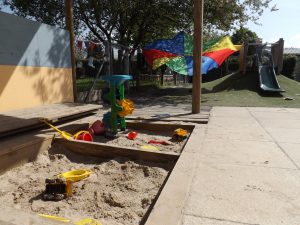 Once again we displayed a tree at the St Mary Le Tower's Christmas Tree Festival.  The children made fantastic robin decorations to hang on the tree. Doesn't it look beautiful!
Term Dates 2020/2021
Autumn 2020
Term Starts: Wednesday 2nd September
Half term:    Monday 26th to Friday 30th October
Term Ends: Friday 18th December
Christmas Holiday: Monday 21st December – Tuesday 5th January 2021 (inclusive)
Spring 2021
Term Starts: Tuesday 5th January 2021
Half Term:  Monday 15th to Friday 19th February
Term Ends: Friday 26th March
Easter Holiday: Monday 29th March – Monday 12th April (inclusive)
(Good Friday 2nd April – Easter Monday 5th April)
Summer 2021
Term Starts: Monday 12th April
Bank Holiday: Monday, 3rd May
Half term:  Monday 31st May to Friday 4th June (Whitsun Bank Holiday Monday 31st May)
Term Ends: Friday 16th July  
Do not forget to name all your child's clothing, footwear, bags and lunch boxes.
"Staff have high expectations of children's achievements.  They skilfully know when to allow children to try things for themselves and when to step in to offer support and guidance.  All children are keen to join in with the enjoyable and challenging activities. 
Children are supported well to develop a growing awareness of how to keep themselves healthy and manage reasonable risks.  Staff provide them with rich opportunities to gain practical skills.
Staff take time to find out about children's specific needs and often draw on the expertise of parents and outside professionals.  In particular, this helps them to offer carefully tailored support to meet the needs of children with special educational needs and /or disabilities" – Ofsted Inspector
"As soon as I walked into ABC I knew that it was where I wanted my son to come to pre-school. The staff are so friendly and engaged with the children. I just love the commitment of everyone at ABC and I couldn't be happier with my choice. I know they have my child's best interests at heart." –
EC, Parent
"The children from ABC generally arrive in Reception with confidence and independence. They demonstrate a love of learning, the ability to persevere and solve problems and show good mathematical understanding. They have formed good friendships and show kindness and concern for the people around them." –  School Teacher