Free Time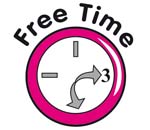 Free Time clubs are registered with Ofsted to provide a safe environment for reception age children up to the end of year 6.
After School 
Our sessions run during school term time from 3.20pm – 6pm at a charge of £8.75 per day
Breakfast
Breakfast club for children over 3 years old attending our pre-school, and who attend Britannia from Reception to Year 6, is open from 8am – 8.45am Monday to Friday, term time only at a charge of £3.70 per day
Holiday
The club runs from 8am – 6pm all school holidays with the exception of Bank Holidays and one week between Christmas and New Year, at a charge of £30 per day or £3.50 per hour.
Click on the link for a copy of our prospectus: Freetime Prospectus 2017-18

For more information about any of our Free Time Clubs please call 01473 718296 option 2 or 07740997599
or follow us on Facebook.
Latest Newsletter
Click on the link: