Free Time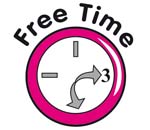 Please click on this link to view our Freetime Club Tour. 
Please click on this link to view our Freetime Prospectus 2022.  There is a Registration Form attached.
Our Free Time clubs are Ofsted registered and provide a safe place for your child to relax and have fun.
Breakfast and After School Club
Our Breakfast and After School Clubs are for children over 3 years old attending our preschool or in reception to year 6 at Britannia Primary school.
Breakfast club is open from 8am – 8.45am Monday to Friday, during term time only at a charge of £3.70 per day.
After School Club also runs during school term time from 3.20pm – 6pm at a charge of £10.50 per day.  Please click here for a copy of our Autumn Term Snack Menu
Holiday Club
Our Holiday Club is open from 8am – 6pm during most school holidays, with the exception of Bank Holidays and one week between Christmas and New Year. Our daily rate is £35 or you can book on an hourly basis, at £4 per hour.
Our holiday club will be open for the following dates:
Monday 19th February 2024 to Friday 23rd February 2024
For more information about any of our Free Time Clubs please call 01473 718296 option 2 or 07740 997599.
Follow us on Facebook (ABC Freetime Clubs) or Instagram (Instagram.com/abcfreetime)
"Children benefit from very safe and secure surroundings.  There are highly effective arrangements to help ensure children arrive and depart the setting safely" (Ofsted Inspector)

"There are lots of activities. Our children are always busy and always come home excited about what they have done at holiday club" (parent)

"Staff have great relationships with the children and are always warm, welcoming and friendly.  Lots of activities for children to do with friends.  As a parent, I know my children will be picked up safely and looked after well.  My children enjoy coming and look forward to it" (parent)

"There is always someone to greet the children first thing at breakfast club and there is a good range of breakfast to choose from" (parent)

"I go to holiday club, I love making slime! The people help me join in other games, even though it was my first day I really like it" (child age 8 yrs)

"I like making hama beads, I love playing magic cards and servants with my friends" (child aged 6 yrs)

"I go to holiday club and after school club.  I like holiday club because we get to make slime and even though it doesn't work out, I like persevering.  In after school club, I love playing with my friends and it gives me a break from school."  (child aged 10yrs)