About Us
Our History
ABC was originally based at St. Andrews Church and was known as St Andrews Playschool. In 1982, the school moved to its current site on Foxhall Road, East Ipswich.
In 2005 the voluntary managed pre-school became a limited company, maintaining its registered charity status. All administrative, budget and fundraising matters are controlled by a voluntary management committee.
In September 2007, the construction of modern purpose built premises was completed. This substantial project was jointly funded by Suffolk County Council, the Local Network Fund, the National Lottery and monies raised by the local community.
The pre-school provides facilities to care for up to 38 children aged from 2 to 5 yrs during the hours of 08:45am – 15:15pm Monday to Friday, during term times and also incorporates a lunch club.
Free Time Clubs provide up to 40 places for children from entry into full time education to end of year 6. After school session run from 3.15pm – 6pm during term time. During school holidays, the holiday club sessions run from 8am to 6pm.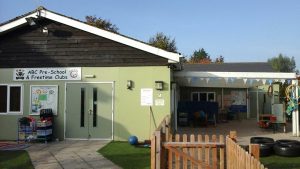 Our Ethos
We are committed to providing support for families in the East Ipswich Area. We pride ourselves on providing socially inclusive services that are accessible to all children.
We want to give every child the best possible opportunities to learn, explore and gain confidence in life. Our staff are dedicated to encouraging your child to reach their full potential.  We strive to give you the highest standard of care in a nurturing, secure and stimulating environment.
We love taking inspiration from your child, letting them express themselves and explore their world through play.
Click here to view our Ofsted Inspection Report https://abcchildcare.org.uk/about-us/2019-ofsted-report/